Swanline recently exhibited at the UK Corrugated Industry Trade Show in Burton-on-Trent. After a three-year absence, the trade show was hosted by the UK Sheet Plant Association (SPA) at the end of June 2022.
Swanline exhibited using their own corrugated modular stand, which was designed, printed, and manufactured in house and made completely from sustainable materials.  The concept was the brainchild of our Innovations Manager, Alex Smith.
Alex originally came up with the idea when appraising stand designs at another trade show.  He wanted to create a structure that would be completely recyclable but also customisable. The stand needed to be modular and could include optional shelves, drawers, tables, and benches. With the strength and versatility of corrugated board, he was confident it could be done and set to work on creating something unique for Swanline.
"With a modular corrugated stand, you can personalise it and make it as unique as you want. You could add arches, half walls, shelving units, create different size walls, as well as print it however you like. It's completely customisable and really easy to build," Alex tells us.
An average size of stand is generally 4×3 metres and takes only 30 minutes to set up. It can be taken into a tradeshow flat packed and the lightweight, yet study structure can be assembled easily.
"An added bonus is that you can also cut into it for access to electrical points if needed, without damaging the shell of the structure. At the end of the day, you can either break it down and put it into recycling or you can flatten it and take it back to the office with you." Alex continues. "You can do so much with a corrugated stand like this, whether you're at the end, stand alone or middle location of a tradeshow, you can create as many walls in as many different shapes and sizes as you desire. Even adding in window panels is possible."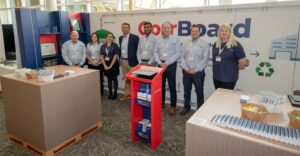 Alex's creation was offered to other SPA members who were exhibiting at the show and four members – GTS, CorrBoard, JW Machinery and BW Paper Systems decided to place an order for a modular stand. – Each stand was customised to the company's specifications, with their own print and design to showcase their specific capabilities.
Swanline also created totem stands and tables for the UK Corrugated Trade Show which were placed around the exhibition, to publicise their sponsors and host. Swanline also created their own corrugated 'fortune wheel' for attendees to spin and win prizes, with Managing Director of CorrBoard, Rob Burgin, taking home the star prize.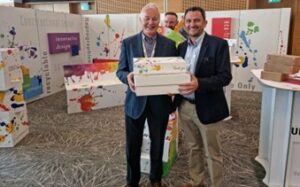 Swanline used the opportunity at the trade show to launch their newly patented EzeE-comm Box design, which makes returnable packaging not only easier but also more sustainable by removing the need for glue or tape.  Attendees were able to build, open and rebuild the box to see exactly how it works for both the initial 'journey' and the return.
If you'd like to partner with a trade only print and packaging company, from design and creation to finishing and fulfilment, get in touch with Swanline today.