Towards the end of Q3 last year, Swanline hired Tinker Taylor to shoot and produce corporate videos, promoting the various services that Swanline offer. The video content was originally intended for three different marketing channels: ConneXion, the packaging industry's online exhibition which we took part in during November, Swanline's website, and our social channels. The initial goal of these videos was to make a lasting first impression on potential new customers, as well as reminding current customers of our full range of services.
We therefore wanted to give viewers a look behind the scenes at Swanline's production site and see our impressive state of the art equipment in action. Tinker Taylor had originally been recommended to Marketing Director Jo Offord, so they were our first port of call.
Tinker Taylor is the Midlands leading video content agency, with multiple awards under their belts, including a Royal Television Society Award. Based in the Creative Quarter of Digbeth in Birmingham, the business has been operational for 18 years and is well established as a highly professional and trusted outfit.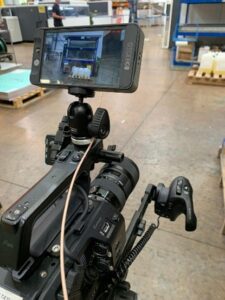 Founder, Sam Taylor, is a former BBC Producer / Director, a Mum of two teenage boys and a volunteer RFU rugby coach, as well as being TT's Creative Director!  Her passion lies in producing video content that generates a return on investment, whether that's increasing sales, driving successful recruitment campaigns, or educating the public for one of her public sector clients – and if she can make a positive social impact as part of that process, all the better.
CEO, Nick Kirby, highly recommends Sam and Tinker Taylor: "We were impressed by Sam's enthusiasm when she visited Swanline HQ, (whilst fully complying with all necessary Covid regulations!) and with Sam's immediate grasp of what it was we were trying to achieve. Sam was professional from start to end, and nothing was too much trouble, whether that was taking extra shots of additional machinery, or adding an extra touch up on an edit that we wanted to perfect."
The Coronavirus pandemic has since affected Sam's business, along with many in her industry, Sam addresses this and the ways she has countered the restrictions businesses now face in this video.
We asked Sam what it was like working with Swanline at the time: "Working with Swanline was a real pleasure.  A case study in easy collaboration, which made the whole process super-efficient and great fun. Our mutual respect for each other's expertise, both businesses being 'best in class' resulted in a series of eye-catching and informative videos. I am already looking forward to the next project."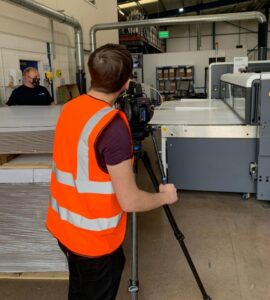 Overall, the filming was a great success, even though Covid restrictions caused some limitations.  Luckily, we were able to get Tinker Taylor into head office during mid-September between lockdowns, when businesses were all open again and the number of infections had dropped.
Filming took an entire day, as we slowly progressed from each department, filming different staff at work and various machines in action. We managed to get videos made of each department, from our sheeter, to digital print and also an entire overview of the Swanline company. This included interviews with CEO, Nick Kirby and Director of National Accounts, Judi Chapple which were overlaid with some of the best footage from the filming of the day, illustrating further the wide range of services that we provide to our customers. This overview is both an introduction to the company and to the people behind it, allowing us to share our expertise and show how passionate we are about what we do. You can view all seven videos from that day on our YouTube channel.
Each of these mini films features relevant footage of the machines and processes Swanline uses to deliver high-quality products to trade clients, allowing viewers to get a good idea of what they can expect regardless of whether they only require one service or all of them.
If you have a shop or showroom that can no longer rely on footfall during lockdown, then we highly recommend you get in touch with Tinker Taylor to find out how video can help make the transition to digital marketing as smooth as possible.