Swanline Group is proud to supply packaging to various industry bodies for conferences and awards to celebrate or commemorate different occasions.
As a confidential trade supplier, it is seldom possible for Swanline's team to showcase the products they design and produce every day.  The packaging Swanline manufactures for industry bodies gives them a welcome opportunity to demonstrate their capabilities in constructional and graphic design, as well as production.
Below are just a few examples of Swanline's prowess in these areas.
FESPA Award Box
Brief: FESPA invited Swanline to create a unique design that would allow them to deliver their prestigious trophy and catalogues to the allocated winners of the 2020 FESPA Awards. The design needed to be distinct and create a unique experience for the lucky winners, but also technically functional, holding and displaying the products safely and securely. It also needed to be able to travel well, as it would be dispatched all over the world.
Solution: A two drawer system was designed and created which would allow the award trophy to be presented in the top drawer complete with the award certificate, with the bottom drawer containing three award catalogues.
The Swanline team also designed an e-commerce style pack to transport the unit to various global destinations, giving a high level of protection around the inner pack to ensure safe delivery.
Commenting on the drawer sets, FESPA technical Support Manager, Graeme Richardson Locke said, "They look fantastic and we couldn't be happier!"
Production:
Print – Four colour process digital print
Die Cut Manufacture – Production CAD table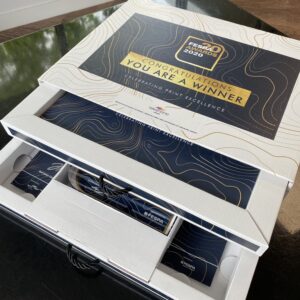 Williams F1 Racing Display FESPA UK Digital Print Summit
Brief: FESPA UK invited Swanline to design a pack to help demonstrate to the audience how design projects are created, from initial brief, through production to the finished article. It needed to be innovative as well as functionally proficient whilst creating impact.
Solution: A reveal feature of a 1/18th scale die cast scale model of the iconic Williams F1 racing car was decided upon, using a pivot system and reveal mechanism. The mechanism would allow the racing car to burst out of the front of the unit as it opened, creating a unique impact to the audience when presented. The pivot system created housing for the car that then would transform the pack into a racetrack with grandstands on both sides pushing the car forward. The graphics of the design allowed the presenter to explain the effectiveness of strong visuals and the strengths of digital print. The pack itself was used as a prize at the end of the event. The full project from design to finished article can be seen here.
Production:
Print – Four colour process digital print with spot varnish on the chequered flag
Die Cut Manufacture – Production CAD table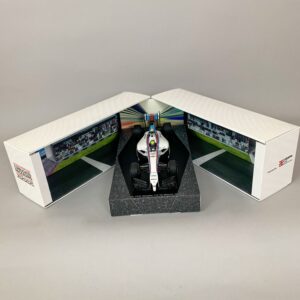 "100 Not Out" Sheet Plant Conference
Brief: Design a folder to help celebrate the 100th conference of the Sheet Plant Association, that could hold literature associated with the day and tie in with a cricket theme to re-enforce the '100 not out' theme.
Solution: A theatre type pop up display design was created, that would fold flat when shut and reopen easily and smoothly. When opening the folder to insert literature, a cricketer would appear in 3 dimensions striking a cricket ball, showcasing the graphics and giving an impressive impact with a fun twist on a simple idea, that tied in with the celebration.
Production:
Print – 4 colour process digital print with spot varnish
Die Cut – Production CAD table
SPA's Chairman, Tim Gray told us "To help celebrate the Sheet Plant Association's 100th Conference we wanted a conference pack to showcase digital print on corrugated with creative design. Swanline jumped at the opportunity and cleverly designed a cricket themed pack using the theme "100 Not Out"! I was personally delighted with the Conference Pack and I am sure delegates were impressed with its creative pop-up design. The pack did what we wanted it to do – namely, showcase the versatility of digital print on corrugated but it also demonstrated Swanline's professionalism and their commitment to pushing the boundaries of digital print and its applications."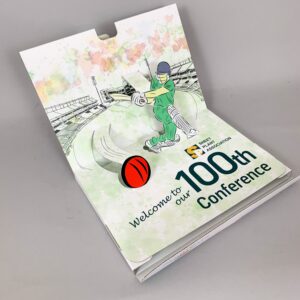 Corrugated Industry Conference
Brief:  Brunton Business Publications asked Swanline to design a folder for their Corrugated Conference to hold the A4 literature associated with the day. It needed to be functional but also fun, whilst showcasing Swanline's innovation and capabilities.
Solution: A Corrugated Bar Theme was created for the folder, with the design team cleverly pushing what they believed was possible to create. This resulted in not only the bar popping out, but also the bar stools, the drinks and other embellishments to create a really unique visual experience on something as simple and standard as an A4 folder. The theme tied in with corrugated theme drinks and snacks, using plenty of puns, making it a relevant and fun way for delegates to store their literature for the day.
Production:
Print – 4 colour litho print with spot varnish for spotlights and text
Die cut – production CAD table
Hot foil blocking added for bar mirror
Matt OPP film laminate
Nick Kirby, CEO says "Brunton Business Publications are the corrugated industry's most reliable and respected source of industry news and communication. My father, Colin Kirby, always had a close relationship with Michael and Fiona Brunton, and the next generations in myself and Dan Brunton have continued that friendship. To be asked by Brunton's to provide an innovative and fun folder for their conference papers was an honour and they certainly raised a smile from the delegates!"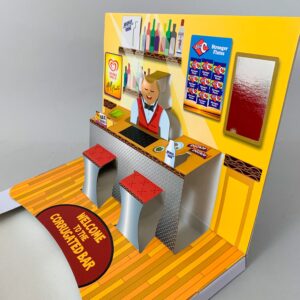 Swanline Group has been the confidential trade supplier to the packaging industry for almost 20 years and is able to provide end to end design, manufacture and delivery or specialist single process requirements. Get in touch today to find out more.