Litho lamination is the process of printing decorative graphics onto paper liner board by way of offset lithography, and then laminating that printed liner board onto a backing board (such as corrugated).
Corrugated material, while excellent for product protection, creates a challenge when attempting to achieve fine detail and high quality full-colour print. Because litho lamination prints to the liner board before it is attached to the corrugated fluting, it has the advantage of printing on a smooth surface.
For high-volume print runs, litho lamination can be a cost-effective way to produce retail-ready packaging on a large scale. When a brand requires tens of thousands of identical impressions (or more) without sacrificing quality, litho lamination is a likely option.
Swanline's lamination and mounting capabilities are the best in class. Working with selected trade lithographic print partners, Swanline Print's high speed BOBST, Stock and Automatän litho laminating machines enable us to convert litho print sheets across all formats, ready for a range of different applications. These three laminating machines are state of the art. Whether you require trade laminating services or fully manufactured products, we have the capabilities to suit every need.
Our BOBST Asitrade Foliostar, Stock Maschinenbau and Automatän EM laminators offer unrivalled versatility from "F" flute single faced to "BC" doublewall corrugated plus many rigid base board materials. We also cater for small format spot position label mounting right up to the largest formats in Europe.
Offering versatile lamination options allows designers to think about optimising cost advantage for their clients. Being able to mix and match materials across technologies supports innovation for Point of Sale, but also offers flexibility with corrugated packaging requirements.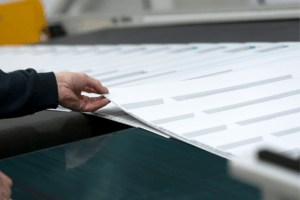 We asked our Technical Director, Simon Kirby, on some further information on litho lamination, to get a few insights:
What's the most enjoyable part of litho lamination?
"Producing quality litho mounting at optimum output."
What part of litho lamination do you think is done well at Swanline?
"The whole process from the order logging initiation by the sales admin team through to the machine operators. It's a team effort that we are all signed up to that allow orders to be produced well on the laminators."
What do you think is the most important part of litho lamination when training someone new?
"After the health and safety aspects, it`s important new team members are aware of the quality expectations and become familiar with trouble shooting remedies. And to ask questions if in doubt."
What is the hardest part of litho lamination?
"Laminating substrates with a low relative humidity. When adhesive is applied to these substrates, they absorb the moisture like blotting paper and can cause warped boards for the die cutters."
What part of litho lamination do you think could be improved?
"Having the equipment in top order all of the time to give the best chance of a quality job at efficient run rates."
If you're looking for litho lamination, then choose to partner with the experts in the industry, Swanline, today.